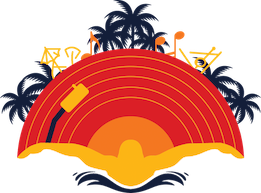 The Sun Downer Swim is back
*New Venue - New Forest Water Park!
The Sun Downer Swim, a 5-
hour relay swim into the sunset. Who is ready for some Summer Party Vibes? 
Swimmers can race either solo or join up with some friends to make up a pair or a team. The aim is to 
complete as many laps as possible within the 5 hour time limit but also to have loads of fun with like minded people! The course will be 800m around the lake
 and will begin in daylight at 5pm and reduced to a smaller 350m lap once 
the sun goes down. Swimmers will be given glow sticks for the final twilight hours and when the party really begins!! 
The race is electronically timed so we can log your laps and there will be a live 
update screen in the Race Village showing your positions. Swimmers can stop 
and rest when they wish but always leave at the correct point to ensure lap times 
are recorded. You can also stay in the water for more than 1 lap. Team 
entries can choose how they relay their team members on laps however there 
will be a cut off time for entering onto the last lap.
Entry includes timing and live results, water safety, swim hat, glow sticks, 
hydration station, finisher medal, a hot meal voucher, yoga sessions and some banging Ibiza tunes!!
So 
who is ready to join us for our Summer Party?!